Maruti Suzuki, popular for its affordable CNG and Hybrid cars, doesn't have any battery electric vehicles in the Indian market as yet. However, the company has revealed its intention to bring a pure electric car to the country soon. It is speculated that the Concept EV – Maruti Suzuki eVX, will mark the beginning of this chapter for the company. The eVX was first showcased at the AutoExpo 2023 and will likely be made in India for domestic purposes as well as for export soon. In India, it is expected to launch at the price of Rs 20-25 lakh, sometime in 2025. Recently the interior of the eVX has been revealed in some images floating online, and these seem pretty futuristic from the first looks.
As for the electric car, the Suzuki eVX is based on the Urban SUV body type, which is also an all-new platform dedicated to the upcoming EVs by Maruti Suzuki. This is an Urban SUV that makes it a practical electric car that is ready to glide on any kind of terrain. In terms of size, the car is 4,300mm long, 1,800mm wide and 1,600mm high. The eVX is expected to be offered with a 60kWh battery pack which may deliver up to 550 kms of maximum range on a single charge. The car was first showcased at the AutoExpo 2023 wherein only the exterior was shown off and the interior was not revealed. The brand has released a rendered version of the interior prior to the complete unveiling of the car.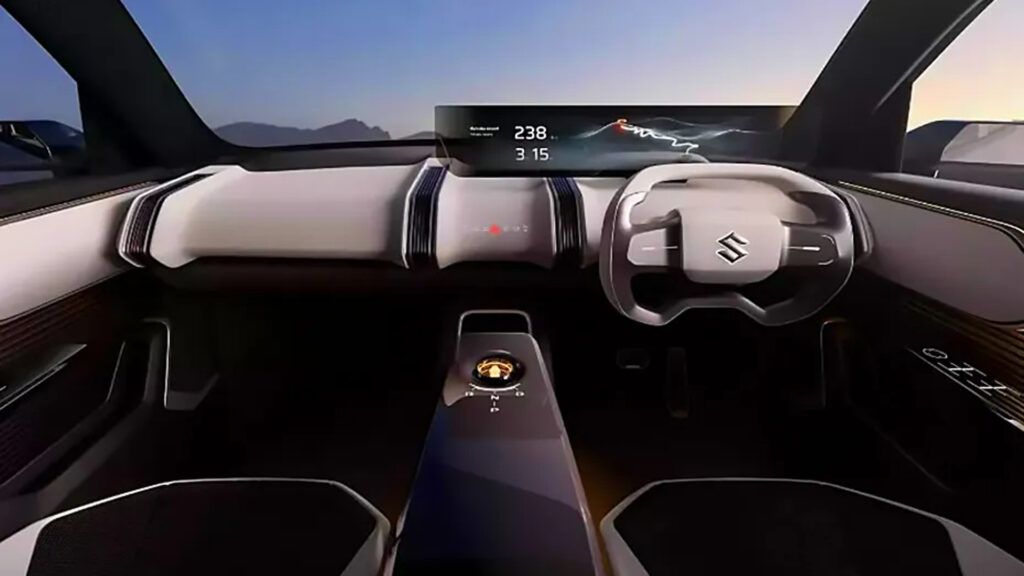 Talking about the interior, the first thing that can be noticed is its futuristic design. The interior does feel like a Virtual Cockpit unlike a simple screen and just some random leatherette seats. The way the digital instrument cluster is designed, it flows with the interior without obstructing the view. This big screen can also be used as an infotainment system of the car helping it to improve the practicality of the car. Some elements like the AC vents, gear lever, and touch-sensitive centre console make it look like a car straight out of some Marvel movie. The steering is just an alien-like-looking part of the car with that two-spoke design, in a positive manner. The steering offers touch-sensitive buttons just like the centre console.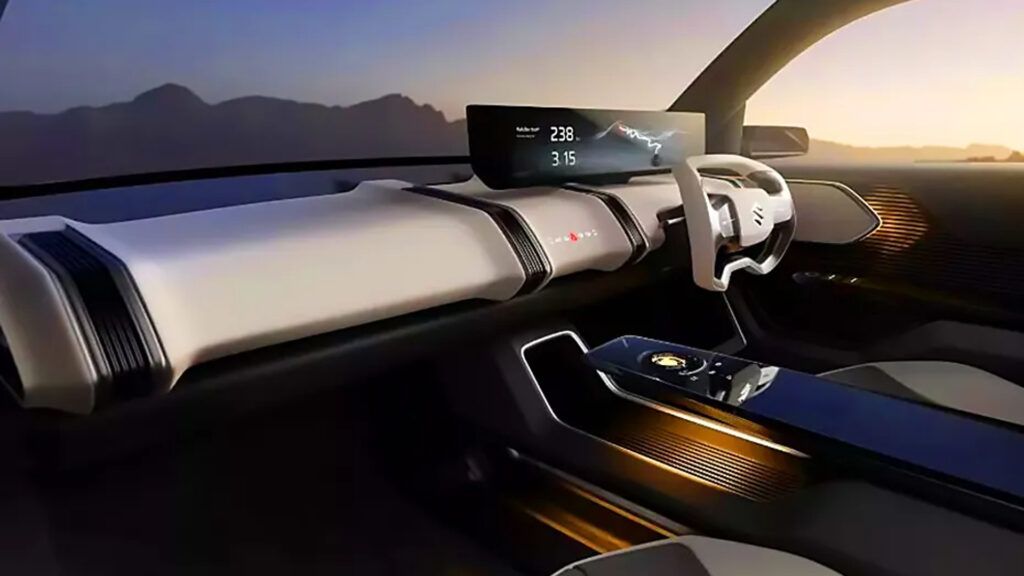 These images provide us with more clarity on the kind of vehicle that Maruti Suzuki is aiming at. We know that the EV is supposed to take the shape of an SUV. With its interiors now revealed, we can also be sure that the company is going for a completely futuristic look and feel for the car. A simple learning from this can be the fact that as and when the eVX marks its debut in the Indian market, it is sure to be a tough contender in the much-competed electric SUV segment in the country.