Yamaha, a well-known brand in India's two-wheeler sector, is contemplating adding a new model to its lineup: the TMax Maxi Scooter. The scooter was also spotted doing test rounds on the Indian roads recently, hinting at its impending launch in the country. Here is what we know about the upcoming electric two-wheeler so far.
The TMax comes as the flagship maxi scooter from the house of Yamaha. For those unaware, Maxi scooters form a special segment of two-wheelers which are meant for a combination of comfort and performance. True to this nature, the international variant of the Yamaha TMax currently comes with a 562cc twin-cylinder engine that produces 47 horsepower and 56 Nm of torque. Once it reaches the Indian shores, it shall find its place among the most powerful scooters available in India.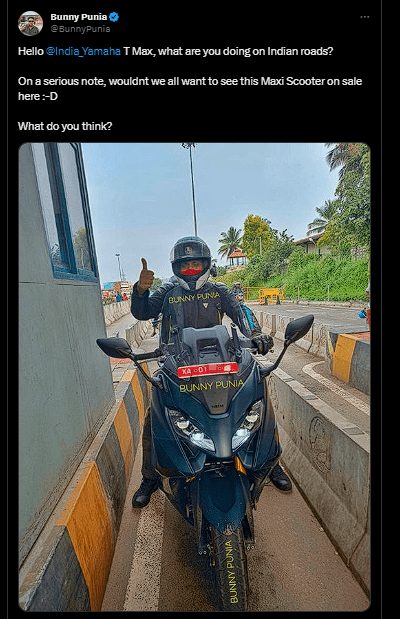 Image: Twitter.com
Yamaha's arrival into this category might also help to cement the trend of Maxi scooters in the country. Note that other manufacturers, including Aprilia, Yamaha, Keeway, and BMW, have previously launched maxi scooters in India. Yamaha's plan to extend its multi-cylinder motorbike offering in India is also consistent with its overall strategy. The TMax might join other impending models like the MT-03 and YZF-R3, with the possibility of future MT-07, MT-09, and YZF-R7 debuts.
If the TMax does arrive in India, it is projected to be a CBU (Completely Built-Up) unit, with a hefty price tag of around Rs 20 lakh (ex-showroom). The price can be deduced from its current price tag of £ 13,807 in the UK, which is about Rs 14.00 lakh.
Maxi scooters provide equal wind protection to fully-faired motorcycles without the necessity for an aggressive riding position, making them an appealing alternative for long-distance cruising. Given India's position as the world's largest two-wheeler market, Yamaha may benefit from the introduction of a premium maxi scooter like the TMax. Yamaha's current flagship product in India is a 150cc single-cylinder motorbike.
In a market where Yamaha is currently absent from the high-end motorcycle segment and its flagship product is a 150cc motorbike, the debut of the TMax might signal a deliberate attempt to appeal to aficionados seeking more powerful and luxury two-wheeler alternatives. India, being the world's largest two-wheeler market, certainly has enormous potential for luxury maxi scooters like the TMax, and Yamaha's entry into this market might be a game changer.